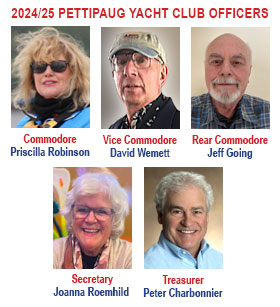 Mailing Address
P.O. Box 372, Essex, CT 06426

Clubhouse Phone & Email
(860) 767-8893

OFFICER CONTACT INFO

Kathryn Ryan
Commodore
(860) 227-8908
commodore@pettipaug.org

Amy Gordon Pullin
Vice Commodore
Chair of Pettipaug Sailing Academy
(203) 912-3421
amygordonpullin@hotmail.com
James Carey
Rear Commodore
Chair of House & Grounds
(860) 581-8238
jciaus@yahoo.com

Marian Carson
Treasurer
Registrar of Pettipaug Sailing Academy
(860) 767-1929
treasurer@pettipaug.org

Liz Horan
Race Committee Chair
(860) 389-1109
erhoran@att.net

Doug Kelley
PYC Rowing
(203) 500-1974
rowing@pettipaug.org

PYC By-Laws

Directions
Great Meadow Road, Essex, CT
By Car from I-95:
• Take I-95 to Route 9 north (exit 69), at the West end of the Baldwin Bridge.
• Take Exit 3 (Essex) off Route 9 North.
• At the bottom of the ramp turn left.
• At the first light turn right, and go about 0.5 mile looking for the Essex Library on the left. Just past the library, and just before the Essex Town Hall, turn left onto Grove Street.
• Go to the first stop sign and turn left onto North Main Street.
• North Main shortly becomes River Road (no turns required!)
• After a large stone wall on right (about 1.6 miles), PYC sign is on a post at the top of the drive.
• Turn right onto private road. Pettipaug is the first building you come to.