The LOOP is tentatively scheduled to return on Sunday November 7th, 2021. Mark your calendars now. More info this summer.
ABOUT THE RACE
Pettipaug Rowing's annual regatta, The Laundon LOOP, is held early every November, normally on the Sunday when Daylight Savings Time ends. The race was concocted in 2005 by John Kennedy and John Flory, who felt that a club is not a real club unless it holds a race. John Laundon devised the course, so the event was named after him. Starting at the clubhouse, the course runs upstream roughly 2km before entering Selden Creek. After winding through the Creek, it continues though Selden Cove and, after a final S-bend, rejoins the River. From there it follows the River back downstream to finish at the clubhouse, for a total distance of about 11km.

The race is run as a mass start in two flights, one for singles and one for doubles, and is contested in five age-handicapped event categories: Men's and Women's Singles, Men's and Women's Doubles, and Mixed Doubles.

After the race, contestants, officials, and volunteer crews enjoy pies and coffee in front of a fire in the Commodore's Room at the clubhouse.
• LOOP Course Chart
• LOOP Course Map
• 2019 LOOP Results
• Historical LOOP Results
ONLINE REGISTRATION
Registration will open September 2021

QUESTIONS & INQUIRIES
rowing@pettipaug.org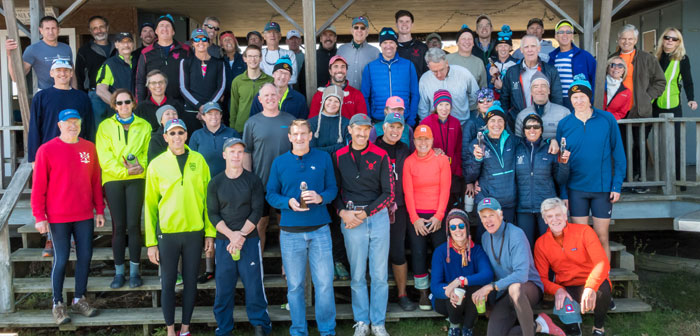 2019 Loop Race Competitors (Photo by Joe Sina)